FEATURES AND BENEFITS
HIGH TURN-UP, 3-PLY POLYESTER CONSTRUCTION
Contributes to excellent durability, impact resistance, and handling.
AGGRESSIVE TREAD DESIGN WITH HOOK-SHAPED BLOCKS
Delivers excellent off-road traction while maintaining great on-road performance.
OPEN, SCALLOPED SHOULDER BLOCKS
Improves off-road traction.
Enhances grip in muddy, sandy, or snowy off-road conditions.
Ejects mud and snow through the open channels.
OVER-THE-SHOULDER TREAD
Helps to provide traction in deep mud and snow.
Delivers improved off-road handling in hard turns.
DEEP SIPING IN THE TREAD BLOCKS
Helps maintain grip on wet surfaces.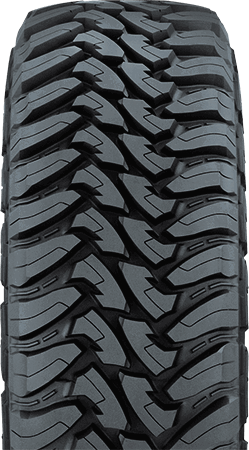 Bold designates measuring rim width.
SL = Standard Load, XL = Extra Load, RD = Reinforced, XT = Xtreme, TD = Tuff Duty, BSW = Black Sidewall, OWL = Outlined White Letters.
Speed rating M = 81 mph, N = 87 mph, P = 93 mph, Q = 99 mph, R = 106 mph, S = 112 mph, T = 118 mph, H = 130 mph, V = 149 mph, W = 168 mph, Y = 186 mph, (Y) = 195 mph.
LT tires with: "C" load range have a 6-ply rating, "D" have a 8-ply rating, "E" have a 10-ply rating, "F" have a 12-ply rating.
The Open Country M/T is legendary for durability, off-road performance, long tread life, and an aggressive tread pattern. It's designed to help trucks work hard on pavement and then work just as hard when roads are muddy, snowy, and rocky—or when there are no roads at all.